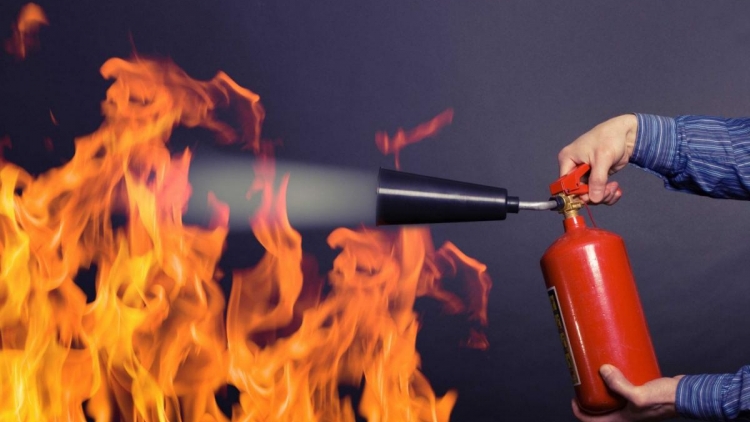 Fire safety and prevention an introduction
Every year fire and its effects represent substantial losses to organizations. It is essential, therefore, that everyone is familiar with fire procedures and the measures to prevent fire. Making fire safety provisions is legal as well as moral responsibility of employer.
I am explaining the basic guide for fire safety and its prevention, you can also opt for online training to study the complete guide.
What is fire?
A spectacular example of a fast chemical reaction between a combustible substance and oxygen accompanied by the evolution of heat.
A mixture in gaseous form of a combustible substance and oxygen with sufficient energy put into the mixture to start a fire.
An unexpected combustion generating sufficient heat or smoke resulting in damage to plant, equipment, goods and/or buildings.
Principles of combustion in fire safety
In order to appreciate the principles of fire prevention, it is necessary to have a broad understanding of the principles of combustion. The three requirements for a fire to start and continue are the presence of fuel to burn, an ignition source of sufficient energy to set the fuel alight and air or oxygen to maintain combustion. If one of these three components is removed, combustion cannot take place. Heat may be transferred by convection, conduction and radiation.
The main causes of fire and fire spread
Past studies by the Fire Protection Association into the causes of a range of industrial fires have indicated the following as the principal sources of fire in production and storage areas:
Production areas
Heat-producing plant and equipment
Frictional heat and sparks
Refrigeration plant
Electrical equipment i.e materials being processed, dust, waste and packing materials
Storage areas
Intruders, including children
Cigarettes and matches
Refuse burning
Electrical equipment i.e stored goods and packing materials
Fire instructions
A fire instruction is a notice informing people of the action they should take on either:
hearing the alarm; or
discovering a fire.
In addition to displaying fire instructions, people should receive training in evacuation procedures i.e. fire drills, at least quarterly; and the alarm should be sounded weekly.
It is advantageous to have key personnel trained in the correct use of fire appliances.
Grouping and coding of fire appliances
All fire appliances must be painted red and incorporate a colour-coded label or band thus:
| Extinguisher | Color Code |
| --- | --- |
| Water | Red |
| Foam | Cream |
| Carbon dioxide | Black |
| Dry chemical powder | Blue |
| Vaporizing liquid | Green |
Fire alarm systems
A method of giving warning of fire is required in commercial, industrial and public buildings. The purpose of a fire alarm is to give an early warning of a fire in a building:
to increase the safety of occupants by encouraging them to escape to a place of safety;
to increase the possibility of early extinction of the fire thus reducing the loss of or damage to the property.
BS 5839: Part 1:1988 lays down guidelines to be followed for the installation of fire alarm systems.
In larger buildings this may take the form of a mains operated system with break glass alarm call points, an automatic control unit and electrically operated bells or sirens.
In small buildings it would be reasonable to accept a manually operated, dry battery or compressed air-operated gong, klaxon or bell. To avoid the alarm point being close to the seat of a fire, duplicate facilities are necessary.
Storage and use of flammable substances
The following points need consideration:
Flammable liquids
Separate storage; storage of smallest quantities in the work area; transport in closed containers; correct labelling; safe dispensing; fire appliances available during use and dispensing; adequate ventilation; no smoking or naked lights.
Liquefied and compressed gases
Store and transport in upright position; store in open well-ventilated area out of direct sunlight; secure with walls chains or racks; oxygen cylinders stored separately; no handling by the valves; no dropping or rolling of cylinders; turn off at bottle valve when not in use.
Regulatory reform (Fire Safety) Order 2005
This Order is made under the Regulatory Reform Act 2004 and is enforced by the Area Fire Authority except in the following cases:
HSE, in the case of nuclear installations, ships of HM Navy and construction sites;
fire service maintained by Secretary of State for Defence;
the relevant local authority in the case of sports grounds and regulated stands;
fire inspectors in the case of Crown premises and UKAEA premises.
The Order either revokes or repeals all previous fire safety legislation.
Level of duty
The level of duty in most cases is absolute although, in some cases, it is qualified by 'so far as is reasonably practicable' (SFARP).
Defence
Where charged with an offence, a person may submit the defence that he had taken all reasonable precautions and exercised all due diligence.
Reasonably practicable measures
The onus of proving the limits of what is reasonably practicable rests with the accused thus In any proceedings for an offence consisting of a duty or requirement so far as is reasonably practicable, it is for the accused to prove that it was not reasonably practicable to do more than was in fact done to satisfy the duty of requirement.
Duties of responsible persons in relevance to fire safety and prevention
Take such general fire precautions (as defined) as will ensure safety of any of his employees (SFARP).
In relation to relevant persons who are not his employees, take such general fire precautions as may reasonably be required in the circumstances of the case to ensure that the premises are safe.
Make a suitable and sufficient assessment of the risks to which relevant persons are exposed for the purpose of identifying the general fire precautions he needs to take to comply with the requirements and prohibitions imposed upon him by or under this Order.
Consider implications of presence of dangerous substances in the risk assessment process.
Review risk assessment if no longer valid or there has been a significant change in the matters to which it relates.
Not employ a young person unless he has considered matters to be taken into particular account set out in Part 2 of Schedule 1.
Record the significant findings of the risk assessment and details of any group being especially at risk.
Not to commence a new work activity involving a dangerous substance unless a risk assessment has been made and measures required by the Order have been implemented.
When implementing preventive and protective measures do so on the basis of the principles specified in Part 3 of Schedule 1.
Make and give effect to arrangements for the effective planning, organization, control, monitoring and review of preventive and protective measures.
Record the arrangements in specified cases.
Where a dangerous substance is present, eliminate or reduce risks (SFARP).
Replace a dangerous substance or use of a dangerous substance with a substance or process which eliminates or reduces risks (SFARP).
Where not reasonably practical (RP) to reduce above risks, apply measures to control the risk and mitigate the detrimental effects of fire.
Arrange safe handling, storage and transport of dangerous substances and wastes.
Ensure any conditions necessary for eliminating or reducing risk are maintained.
Ensure premises are equipped with appropriate fire-fighting equipment and with fire detectors and alarms and that non-automatic fire-fighting equipment is easily accessible, simple to use and indicated by signs.
Take measures for fire-fighting in the premises, nominate competent persons to implement these measures and arrange any necessary contact with external services.
Ensure routes to emergency exits and the exits themselves are kept clear at all times.
Comply with specific requirements dealing with emergency routes, exits and doors and the illumination of emergency routes and exits in respect of premises.
Establish and, where necessary, give effect to appropriate procedures for serious and imminent danger and for danger zones, including safety drills, nomination of competent persons to implement the procedures and restriction of access to areas on the grounds of safety.
Ensure additional emergency measures are taken in respect of dangerous substances, including provision of information on emergency arrangements, suitable warnings and other communication systems, before any explosion conditions are reached, visual and audible warnings, and escape facilities.
Ensure relevant information is made available to emergency services and displayed at the premises.
In the event of an accident, incident or emergency related to the presence of a dangerous substance, take immediate steps to mitigate the effects of fire, restore the situation to normal, and inform relevant persons.
Ensure only those persons essential for the carrying out of repairs and other necessary work are permitted in an affected area.
Ensure that premises and any facilities, equipment and devices are subject to a suitable system of maintenance and are maintained in an efficient state, in efficient working order and in good repair.
Appoint one or more competent persons to assist him in undertaking the preventive and protective measures, ensuring adequate co-operation between competent persons.
Ensure that competent persons have sufficient time to fulfil their functions and the means at their disposal are adequate having regard to the size of the premises, the risks and the distribution of those risks.
Ensure competent persons not in his employment are informed of factors affecting the safety of any person and are provided with the same information as employees.
Duties of employees
Every employee must take reasonable care for the safety of himself and others who may be affected by his acts or omissions while at work. They should co-operate with his employer to enable him to comply with any duty or requirement imposed by this Order. The employee should inform his employer or any other employee with the specific responsibility for the safety of his fellow employees of any work situation which represents a serious and immediate danger to safety, and any other matter which represents a shortcoming in the employer's protection arrangements for safety.
Powers of the secretary of state
The Secretary of State may by regulations make provision as to the precautions which are to be taken or observed in relation to the risk to relevant persons as regards premises to which this Order applies.
Enforcement of the order
Every enforcing authority must enforce the provisions of this Order and any regulations made under it. The enforcing authority must have regard to such guidance as the Secretary of State may give.
Management of fire procedures
It is essential that formal fire procedures are established and maintained. Fire prevention and protection is a key function of the competent persons appointed under the MHSWR.
In addition, the advice and guidance of the local Fire and Rescue Authority and its officers should always be sought, particularly where any work or alterations may require a change to the structure and layout of the workplace.