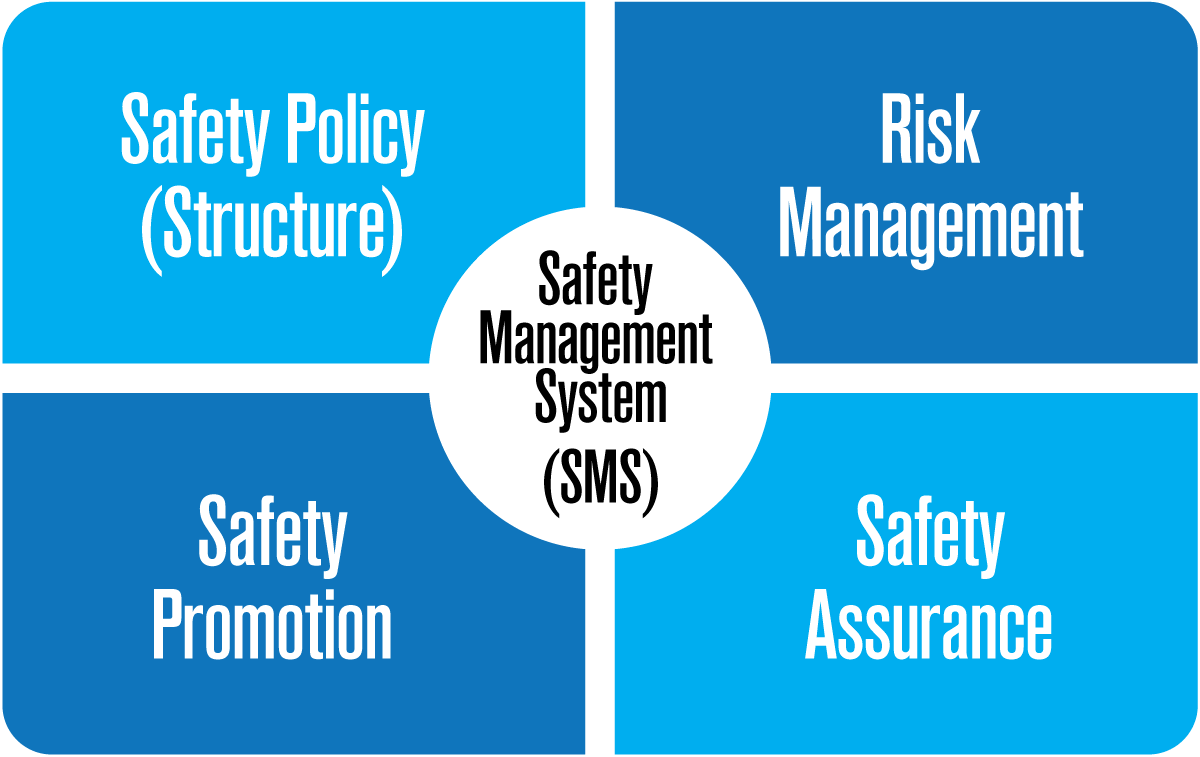 Safety Management System
It is an excellent management practice for every organization to have a Safety Management System in place, and an effective system can be of great benefit to your organization.
A Safety Management System can vary greatly in style according to the trade or profession concerned. For some companies, issues such as storage, plant and equipment, hazardous substances, contractor management, and the handling of violence and aggression may be essential features of the safety management system. For others, the main concern is the assessment of workstations and the working environment of people who use computers for prolonged periods of time.
Whatever organization or industry you work for, implementing a Safety Management System is vitally important if you are to successfully manage your health and safety.
The three health and safety management systems which we need to discuss are:
[alert style="success"]
Download NEBOSH International Diploma books PDF
[/alert]
The role of the health and safety policy
Occupational Health & Safety is a subject that must be addressed by all organizations large and small. The organization's management system should identify all legislative requirements and hazards and control the risks of the organization.
Progressive businesses will aim to go beyond compulsory measures and promote continuous improvement of health and safety matters, in line with the HSE "Be part of the solution" Strategy 3rd June 2009.
Managing the health and safety of an organization can be approached in an unstructured way or by using a formal approach (i.e. quality standard ISO 9001:2008 or environmental standard ISO 14001 or similar) and it can be integrated into any current system, to reduce the burden of bureaucracy.
A formal Health and Safety Management system will provide the following benefits:
A system for continually identifying legal and other requirements.
A clear management structure delegating authority and responsibility.
A structured approach to risk assessment within the organization.
A planned and documented approach to health and safety.
The monitoring of health and safety management issues, auditing of performance and review of policies and objectives.
Time spent on improving an organization's health and safety could provide a financial return in terms of:
Reduced accidents and occupational ill-health.
Reduced stress and greater productivity.
An improvement in underwriting risk.
A reduction in the likelihood of paying legal costs and compensation.
[alert style="success"]
IOSH Managing Safely Exam Questions
IOSH Managing Safely Training Notes
[/alert]
The requirements for a written health and safety policy and for recording arrangements in relevant standards
A written health and safety policy is a legal requirement embodied in the Health and Safety at Work etc Act 1974. It is also the first stage of the HSG65 management system model. Having a written policy showing commitment to health and safety within the organization is an important aspect.
The policy itself may come in a variety of forms, but essentially should outline the way in which the company is thinking and the direction it wishes to take with regards to its pursuit of a healthy and safe working environment.
HSG65 gives more detailed information in its text regarding what should form the basis of the policy statement:
Set the direction for the organization by:
Demonstrating senior management commitment.
Setting health and safety in context with other business objectives.
Making a commitment to continuous improvement in health and safety performance.
Outline the details of the policy framework, showing how implementation will take place by:   Identifying the director or key senior manager with overall responsibility for formulating and implementing the policy.
Having the document signed and dated by the director or chief executive.
Explaining the responsibilities of managers and staff.
Recognizing and encouraging the involvement of employees and safety representatives.
Outlining the basis for effective communication.
Showing how adequate resources will be allocated.
Committing the leaders to planning and regularly reviewing and developing the policy.
Securing the competence of all employees and the provision of any necessary specialist advice.
A review period for the policy must be set so that the document can be continually updated and reflects current and best practice as well as any advancement in safety legislation.
General principles and objectives of a health and safety policy document
The Occupational Health and Safety Act, Act 85 of 1993, requires the employer to provide and maintain as far as reasonable and practical a work environment that is safe and without risk to the health of employees.
Section 7 of the Act provides direction to employers concerning the health and safety policy of the organisation.
According to this section the employer will be obligated to have a health and safety policy once the chief inspector has directed him to do so. It would therefore not be compulsory for all organisations to formulate and implement a health and safety policy but the employer is still duty-bound to inform employees of work related risks and dangers. According to legal prescription the employer must inform employees how work related risks and dangers could be prevented.
A health and safety policy could prove to be a valuable tool in this regard, in fact the importance of work related policies and procedures cannot be over emphasised. In a home there are usually rules that the family abides by which brings order to the home. The same applies to the workplace; rules and regulations bring order to the workplace.
Employers need to comply with minumum standard legislation but the employer also have the right to set a better standard for their particular business. It is imperative to communicate these standards to employees and other role players like contractors. This should preferably be done in writing and these documents are called policies and procedures.
Policy documents also provide direction to all company activities and provide the criteria to measure and evaluate efficiency. In short, policies and procedures could be described as a set of documents that describe an organisation's policies for operation and the procedures necessary to fulfill the policies. Without it, it would basically be impossible to effectively control and manage employees and other role players.
The primary objective of a health and safety policy should be to prevent or reduce work-related accidents and occupational diseases. An appropriate policy could help to avoid the expense, inconvenience, and other consequences of workplace accidents by making sure that employees and other role players know what is expected of them.
An employer who lacks the necessary rules and regulations in order to regulate the behaviour of employees and other role players cannot expect any sympathy if these persons misbehave and take advantage of the situation.
A health and safety policy is a written statement of principles and goals embodying the company's commitment to workplace health and safety. There are no hard and fast rules about what to include in a policy. The employer should create a policy that is suitable and sifficiant in order to address the health and safety need of the company.
A good policy will indicate how the organisation protects those who could be affected by its activities and be broad enough to cover all aspects of the company's activities.
The policy should be of an appropriate length and relevance to the activities and size of the organisation.
The health and safety policy statement should mention:
a description of the organisation
recognize the need to comply with minimum standard legislation of the Occupational Health and Safety Act
recognize the priority of safety in relation to other organizational goals and policies
acknowledge the right of every employee to work in a safe and healthy environment
stipulates that management is accountable for occupational health and safety programs and management's commitment to providing a safe and healthy work environment by eliminating or minimizing the hazards that can cause accidents and injuries
the organisation's basic health and safety philosophy (statement of health and safety principles and goals)
the general responsibilities of all employees
that health and safety shall not be sacrificed for expediency
that unacceptable performance of health and safety duties will not be tolerated
encourage co-operation with unions and workers to involve all employees in implementing the health and safety policy into practice
the policy date
be signed by the chief executive officer
be visibly displayed for all workers to see
review date of the policy
The policy basically demonstrates how seriously an organisation takes its health and safety responsibilities. It is important to note that the employers are bound by the prescriptions of their specific policy and could be held legally liable for not complying with it.
Monitoring that the policy is still effective is also very important, a policy will only be effective if it is reviewed on a regular basis.
The drafting; implementation and monitoring of the organisations health and safety policy is a clear demonstration of management commitment in this regard. Senior management must be committed to carrying out and review that policy consistently and completely.
Health and safety should enjoy the same priority as the organization's other major objectives. Senior management must be committed to ensure that the policy is carried out with no exceptions.
Commitment and involvement are complementary to each other and are essential elements needed to spearhead any health and safety program to success.