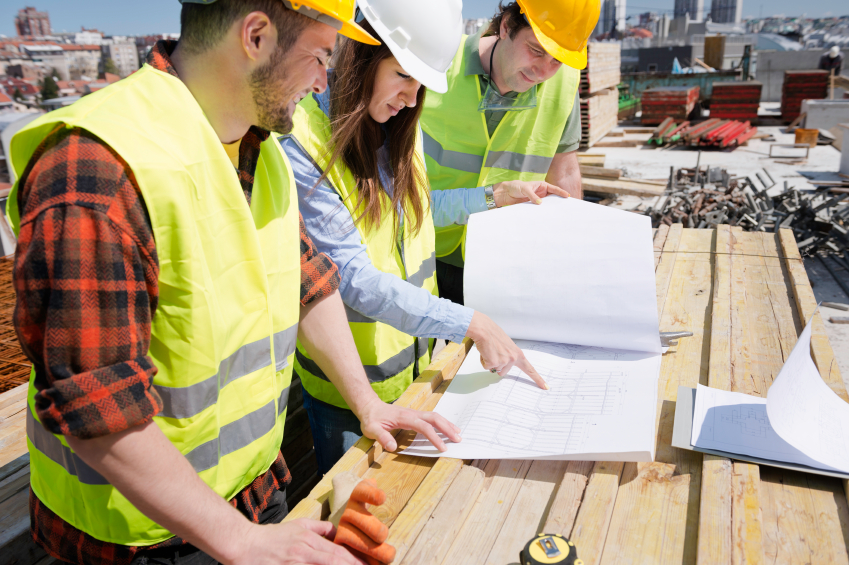 Basics of construction safety
Implementation of construction safety work practice in day-to-day activities in construction industry is must follow rule for every employee and employer. The fatal injury rate is much higher in construction industry in compare to other industries in this category. Construction is high hazard industry wide range of activities with high safety risk including working at heights, construction, excavation, demolition, use of heavy machinery and working in confined space.
Accidents in construction activities
Accidents are common in construction activities. for construction safety the more common classes of accident are outlined below.
Falls from ladders
Falls from working platforms
Falls of materials
Falls from pitched roofs or through fragile roofs
Falls through openings in flat roofs and floors
Collapses of excavations
On-site transport accidents
Machinery and powered hand tools
Machinery
Fire
Failure to use or wear personal protective equipment
Work over water and transport over water
Work involving hazardous substances
Manual handling activities
Underground services
Confined spaces
Precautions necessary in construction activities
Work above ground safety
This entails the use of scaffolds, mobile access equipment and ladders. Falls from a height are one of the most common causes of fatal accidents in construction work.
The following factors should be considered in order to ensure safe working practices.
Scaffold safety
Scaffolds may take the form of tied-in (or putlog) scaffolds or independent freestanding scaffolds. The use of movable access equipment, such as scaffold towers, must also be considered.
Basic safety requirements
Safe means of access to and egress from working platforms must be provided
All workplaces above ground must be kept safe
Scaffolds should be provided at working heights above 2m
Toe boards, hand rails and intermediate rails should be fitted and maintained
Working areas should be adequately lit
No materials should be thrown or tipped from working platforms
Scaffolds must be constructed using approved materials and maintained in sound condition
Scaffolds should be rigidly constructed as to prevent accidental displacement
Standards should be vertical or leaning towards structure, securely fixed and braced
Ledgers and transoms should be horizontal and securely fixed
A competent person must inspect scaffold materials and supervise modifications
Putlogs should be straight, provided with flat ends and securely fixed
Gangways should be adequate (minimum 0.44m wide)
Working platforms should be adequate (minimum 0.64m for general work)
Stairs should be fitted with handrails and toe boards installed on landings
Warning notices should be displayed, and access blocked, to partlyerected scaffolds
Careful lowering of items during dismantling
Scaffolds should be rigidly connected to building unless constructed as an independent scaffold
Scaffolds should be securely supported or suspended or strutted or braced
Movable access equipment safety
This type of equipment commonly comprises a movable tower formed from scaffold tubes or pre-formed frames. In each case, the tower incorporates a working platform, access by means of an externally fixed ladder or internally placed raking ladders, and caster wheels at the base, which permit the tower to be moved with ease.
This equipment is commonly used for high level maintenance work, painting and small-scale building work.
Basic safety requirements
The following requirements are necessary to ensure safe working:
Working platform must be secure, completely boarded and fitted with toe boards, intermediate rails and hand rails.
The height must not exceed three times the smaller base dimension.
The installation of outriggers may be necessary to increase stability during windy conditions.
Diagonal bracing should be installed on all four elevations and horizontally.
Castors at the four corners must be securely fixed and fitted with a brake.
Such scaffolds must be moved with great care by pushing/pulling at base level.
No person, equipment or materials should be present on the platform during movement of same.
Ladder safety
Safety precautions cover the actual construction and use of ladders.
Basic safety requirements
Ladders must be of sound construction and adequately maintained.
Defective ladders should never be used.
Ladders should not be painted or treated as this may hide defects; treatment with clear preservative is acceptable.
Wooden ladders must be fitted with reinforcing ties.
Landing places must be installed every 9.14m (30') of vertical distance and fitted with toe boards and hand rails.
Openings in landings must be as small as possible.
Folding ladders should have a level and firm footing.
Work below ground
The principal risks are collapse of an excavation, flooding and people, materials and vehicles falling into excavations.
Excavations
Factors for consideration in the support of an excavation are:
the nature of the subsoil;
projected life of the excavation;
work to be undertaken, including equipment used;
the possibility of flooding;
the depth of the excavation; and
the number of operators working in the excavation at any one time.
Basic safety requirements
An adequate supply of timber and other materials must be available.
Barriers must be installed as close as practicable to the edge and maintained in position.
Adequate and suitable materials must be used for shoring.
Timbering should be completed as early as practicable, and those involved in the work must be protected whilst undertaking this work
Timbering must be of good construction, sound material, free from patent defect and of adequate strength.
Struts and braces must be adequately secured.
Experienced operators must be employed for erection, alteration and dismantling.
Excavations and approaches must be well-lit.
No materials must be placed near the edge of an excavation.
Steps must be taken to prevent premature collapse where excavations may affect the stability of a building.
Means for reaching a place of safety, where there is risk of sudden flooding, must be provided.
Means to prevent over-running of vehicles must be installed.
The atmosphere must be well-ventilated.
Demolition operations
Demolition is the most hazardous operation undertaken in construction activities. The principal hazards are:
falls of men and materials;
collapse of structures;
overloading of floors with debris;
incorrect or unsafe demolition techniques;
explosions in tanks or other confined spaces;
the presence of live electric cables and gas mains;
the presence of dusty, corrosive and poisonous materials and/or atmospheres;
projecting nails, broken glass and cast iron fragments which can cause minor injuries.
Basic safety requirements
The principal precautions entail:
a pre-demolition survey to identify, for instance, the nature and method of construction, previous use, location of services, presence of dangerous substances, cantilevered structures, etc;
isolation of services;
segregation of the area by barriers, control of access, display of warning notices, etc;
installation of fans or catching platforms where necessary;
ensuring the provision and use of correct personal protective equipment by operators: safety boots, hard hats, respiratory protection;
use of temporary props where necessary;
a competent person must be employed;
effective control when pulling arrangements, a demolition ball, pusher arm and/or explosives are being used;
protection against falling items;
control over access to dangerous areas;
use of scaffolds where manual demolition is undertaken;
protection against falling: safety harnesses, nets, sheets to be used;
no work over open joisting;
prior removal of glass in windows, doors and partitions;
adequately lighting;
competent person to oversee work and make continuing inspections;
express measures to prevent premature collapse; and
trained drivers/operators and banksmen to be employed whenever mechanical demolition is to be undertaken.